Meet Dr. Chris West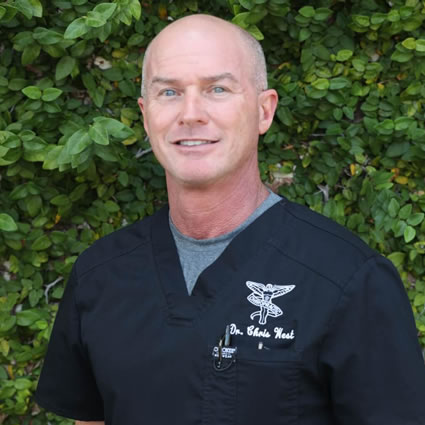 Staying Healthy With Chiropractic
As a kid, Dr. West thought visiting the chiropractor was a routine part of life. His mom had seen a chiropractor for migraine headaches. His father went to get help with his sports injuries. The chiropractor would adjust Dr. West occasionally to ensure his posture developed correctly as he grew.
It was only after chiropractic college that Dr. West realized that the chiropractor had given him preventative or maintenance care. After his first sports injury, seeing the chiropractor to have it addressed was no big deal.
Seeing his older brother begin college to become a medical doctor got Dr. West thinking about his future career. As an athlete and a health-minded person, he would often consult his chiropractor on issues or those of his friends. It didn't take long to decide to join the chiropractic profession.
A Science-Based Education
Dr. West's undergraduate years were completed at The University of Southern Mississippi, where his brother attended alongside him. To earn a Doctor of Chiropractic, Dr. West attended Logan College of Chiropractic. His classes there included an in-depth look at anatomy and physiology, microbiology and more. Then, he got into diagnosis, X-ray and chiropractic techniques. The curriculum his brother was studying to become a medical doctor was surprisingly similar.
After graduating in 1990, Dr. West moved back to Hattiesburg to begin practice.
EXPLORE OUR SERVICES »
On a Personal Note
Dr. West was born, raised and educated in our community. He is married to Brandi, and together they have three children. Brandi has worked in our local hospitals over the last 20 years performing CAT scans as a radiology technologist. However, she decided to say goodbye to that life and has joined our staff here at the clinic performing x-rays and other tasks as well as sharing her warm personality and friendly face with our patients and staff.
It's important to Dr. West that he practices what he preaches. He exercises, eats healthy most of the time, takes supplements, attends to his spiritual health and gets preventative chiropractic care. His hobbies include cycling, doing yard work and gardening and keeping up on home improvement projects. He also participates in bicycle races and believes that 50 is the new 40!
Same-Day Free Consultations
You don't want to wait for your appointments. At West Chiropractic Clinic you can get in on the same day with us! Contact us now to book your free consultation with Dr. West.

Dr. Chris West | (601) 261-5599