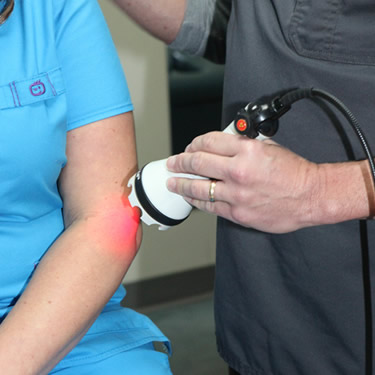 Laser Therapy at
West Chiropractic Clinic
At West Chiropractic Clinic, one of our many healing modalities is laser therapy. This form of therapy is effective in eliminating pain and speeding your recovery.
This therapy rejuvenates the tissues of the body and can cut down on the time you spend on the sidelines due to a strain or sprain. Some forms of everyday aches and pains can even be addressed through laser therapy.
What the Laser Does
Your body turns the food you eat into energy called ATP. When the laser is applied, it stimulates your body to create more ATP. In turn, your healing process is accelerated. By increasing your cellular metabolism, your inflammation can be quickly resolved.
Hot & Cold Laser Therapy Available
We offer both hot and cold laser therapy to our patients. You don't need to be a chiropractic patient to receive laser therapy at our office. Typically, however, we combine chiropractic and laser therapy to maximize the benefits you experience.
Learn More Today
Find out about laser therapy Hattiesburg and whether it's right for you. Contact us today to schedule your free consultation with one of our doctors!
CONTACT US »

Laser Therapy Hattiesburg, West Hattiesburg MS | (601) 261-5599