Pregnancy Chiropractic at
West Chiropractic Clinic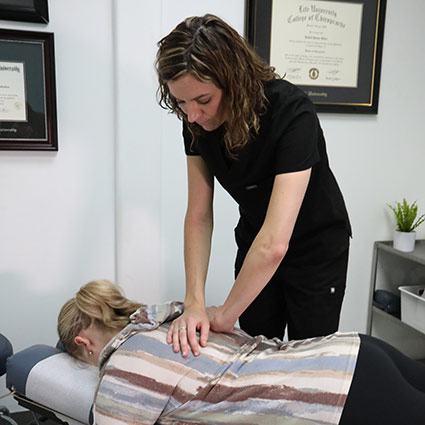 Having a healthy pregnancy brings many challenges and changes. Getting the right kind of care during the prenatal period is essential to ensure you and your baby have a safe, comfortable journey together.
One type of care that may be beneficial for expecting mothers is chiropractic—it can help reduce physical pain associated with pregnancy (without medication), along with other health benefits.
Chiropractic is beneficial throughout the following stages:
Preconception: Chiropractic care helps the body be as strong, supple, and balanced as possible to carry the pregnancy.
Pregnancy: Regular prenatal chiropractic care can reduce back pain, nausea, and other types of discomfort without medication.
Providing The Webster Technique
The Webster Technique is a specific chiropractic analysis and adjustment that reduces nervous system stress and optimizes the mother's pelvic function during pregnancy and birth. By improving the balance and alignment of the spine and pelvis, consistent chiropractic care can help provide a more comfortable pregnancy. This gentle technique has been shown to lead to safer labor and birth outcomes for mothers and babies.
Most of our patients find some relief after the first visit. Each patient is unique, and Dr. Bilbo will examine and analyze your spine and pelvis on the first visit. Based on the findings, she will recommend a care plan that is unique and specific to your needs and desires.
Dr. Bilbo is an active member of the International Chiropractic Pediatric Association (ICPA), and is certified in the ICPA's Webster Technique. She has completed advanced training with the ICPA to broaden her knowledge and skills in caring for our prenatal population. A Webster Technique adjustment takes an average of 5-10 minutes.
Book an Appointment
Take that first step toward having the happy and healthy pregnancy you deserve. Contact us today to schedule an appointment!
CONTACT US »

Pregnancy Chiropractic Hattiesburg, West Hattiesburg MS | (601) 261-5599