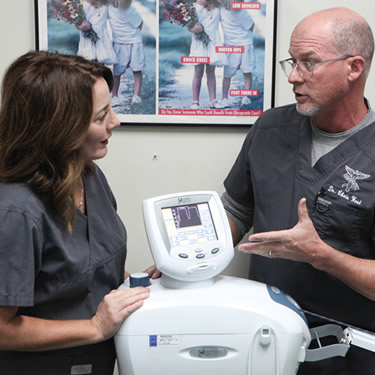 Spinal Decompression
at West Chiropractic Clinic
At West Chiropractic Clinic, we want to make sure you have access to all the healing solutions you need. When done alongside chiropractic, our patients get incredible results from spinal decompression therapy. You may have also heard it referred to as traction.
This state-of-the-art solution is ideal for anyone with spinal pain, stiffness or degenerative conditions. It works by creating a suction movement, allowing fluid and nutrients to be drawn into the spinal discs and joints. In turn, you can get rid of waste products, bring in new vitamins and minerals and rejuvenate your spine.
Same-Day Visits Available
If you'd like to learn more about chiropractic and spinal decompression Hattiesburg, contact our team now! We're pleased to provide same-day appointments.
CONTACT US »

Spinal Decompression Hattiesburg, West Hattiesburg, Petal MS | (601) 261-5599